The Fisher Price Rock n Play Sleeper is a godsend. Sophie will not sleep on her back so sleeping on an incline has been great for her. Her favorite position is on her belly, but until she has better head control (it gets better every day!) we put her in here next to our bed. I like how light and easy it is to fold and move. Sometimes she will nap/lay in this while I am editing photos and she is content.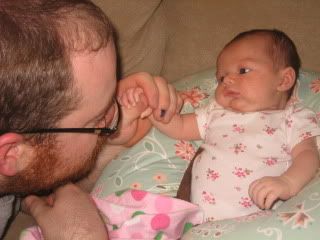 The Boppy pillow is a must have item. Great for breastfeeding and infant positioning, I usually have this on the couch when we're hanging out. Sometimes we even use it for naps when we're supervising her.


This is the Itzbeen timer. This is great for sleep-deprived moms and dads who don't want to write down/remember the last time their child: had a diaper change...ate...slept...etc. The first week we almost forgot we had the timer and let me tell you, life has been a lot easier since using it. It even has a nifty clip on the back of it. I carry it with me even in the diaper bag. It gave us a good sense of Sophie's habits.



Gereber's 12 pack Birdseye Diapers has come in handy for us more times than I can count. No, we aren't cloth diapering, but I use these for burp clothes, spit up rags, but most importantly emergency pee mishaps during changing times. It's super absorbent. Sophie sometimes likes to surprise us when we change her, so I always keep one by our changing areas.