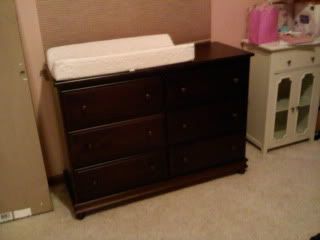 The dresser is finally finished! After waiting for missing drawer parts for a week, we have a new piece of furniture in Sophie's room. This may be the final placement for it, but we have to see since it is actually over a vent. We still have random things in her room still, but in the next month they will be cleared out for painting and stay out. When my husband finished putting this together, he called me in to check out the final product. I have to admit I gasped a little....I think the changing pad on the dresser made it all too real. I will be changing my child there in 4 months. Wow.
In other home news we are in the middle of painting the master bathroom and updating the brass fixtures to brushed nickel.
These
match the half bath downstairs with one exception - we are getting a different light fixture. We should actually be finished with the room right around the New Year. Can't wait. Of course on the agenda after that is to start Sophie's room. We also will be contacting a local company to come paint our upstairs hallway because
this
isn't going to get done by me or Spence!