I've been wanting to take a family trip for a day to Ann Arbor. It is about an hour and a half away from our house, but very much worth the trip. I have heard about Zingerman's - the best bakery/deli in Michigan, but had yet to step foot in the collection of 3 buildings on Detroit St.

One of my photography clients lives in Ann Arbor and after their engagement shoot on a particular hot, exhausting day, treated me to a Zingerman's vanilla iced latte. Heaven. Pure heaven. I was hooked. Hand shaven vanilla beans from Mexico? These people surely know their food. Literally everything is available to sample prior to purchase. A taste guarantee? I am in. Food is even shipped nationwide from the Ann Arbor location. See here for Zingerman's mail order.

My husband got J.V.W.'s Detroit St. BBQ - Zingerman's BBQ Amish chicken, Nueske's applewood-smoked bacon & coleslaw on grilled sourdough bread. Served with a side of applewood-smoked baked beans. And I decided on Dave's Open Road - Grilled Amish chicken breast, applewood-smoked bacon, Wisconsin muenster cheese, Zingerman's ranch dressing & lettuce on grilled challah bread. We also got a loaf of Parmesan Pepper Bread to take home. Sophie liked to test out her new teeth on a slice.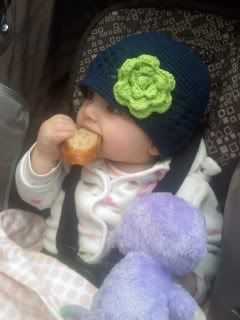 After our late lunch we walked around Kerrytown and discovered more shops. There is an adorable upscale baby store, Elephant Ears, that I wanted everything in it!

I am sure we will visit Ann Arbor again, there's so much to see and do. To be honest, my husband and I were reminiscing about the college days when we were there so maybe next time we will leave Sophie at home to relive our irresponsibility at the many bars downtown. :)